I've always always enjoyed making breads, I wouldn't necessarily consider it my strongest skill when it comes to pastry but it brings me a lot of joy, especially right out of the oven… yummmm Here are some shots of the bread service from the restaurant. Above is our brioche. Its the first thing I got onto the menu when I started at this restaurant late last year. Customers can't get enough of it, we blow through nearly 300 rolls on a Saturday service (we do around 90 covers on a Saturday)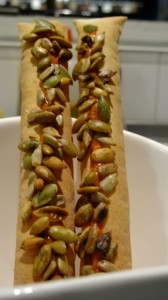 These are our pouri sticks, a longtime staple item at the restaurant. The first is just a neat shot of the dough proofing, the other is right before they're sent out.
Below is a gluten free bread I've was trying out. Its a buckwheat loaf, we get so many celiacs in that I would really like to have something on hand to accommodate them.